Construction Schedule
Construction Process and Schedule
Before the PLA started its work, approximately 40 percent of the old street lights were not in operation due to burned out bulbs, deteriorated infrastructure, or theft of copper.
The PLA's goal is to complete relighting all neighborhood and collector streets in Detroit by the end of 2015 and all major thoroughfares by the end of 2016. When the project is complete, there will be 65,000 new LED street lights in Detroit.
The work has three phases:
Survey to determine the location, condition and type of light for every exiting street light.
Design engineering work on the new system factoring in the location and condition of each light.
Construction and installation of the lights on a ZIP code by ZIP code schedule
Neighborhoods first.
The PLA's first area of focus is relighting all the neighborhood streets first. Residential streets are the local, residential streets where the speed limit is generally 25 mph.
The new lights in neighborhoods are 150-watt equivalent LED lights, twice as bright as the 75-watt equivalent High Pressure Sodium lights that were standard under the old system. The LED lights are also much more energy efficient than the High Pressure Sodium lights.
The second priority is relighting the collector streets. Collector streets are the direct connections between residences and destinations such as community centers, schools, businesses and major roads. Some examples of collector streets include Grand Blvd., Livernois, Mack Avenue, Seven Mile Road, Van Dyke, and Warren Ave.  Work on collector streets is scheduled to be completed by the end of 2015.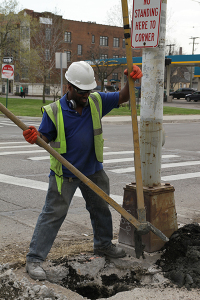 On the collector streets, the new street lights are 250-watt equivalent, where the old lights were 150-watt equivalent.
Representing the PLA's third area of focus are the major thoroughfares. They are:
Fort Street
Grand River
Gratiot Avenue
Jefferson Avenue
Michigan Avenue
Telegraph
Woodward Avenue
These streets are receiving 400-watt equivalent lights.  Work on them has already begun and is scheduled to be completed by the end of 2016.